First time here? Wondering what it would be like to visit us?
We know that some folks are a little apprehensive about going to a new place with unfamiliar faces. Rest assured that our faces are friendly and we want to make your visit as stress free and comfortable as possible.
First, you probably want to know were we are located.
We are in northwest Houston, in the Copperfield area of the Cy-Fair school district. We are on the corner of Longenbaugh Dr and Queenston, right across the street from the YMCA. Our office hours are from 9:00 am to 5:00 pm Monday – Thursday and 9:00 am – 1:00pm on Friday. Sunday service starts @ 10:30 am and is usually over around noon.
What to expect on Sunday mornings…
When you arrive, you will be welcomed by one of our greeters who will give you some information about us and will direct you where to go next. If you have children that you want to participate in one of our children's activities, you will be directed to check-in with our Kid Check™ system where you will receive serialized name tags for your child's security. After check-in, infants and toddlers can be left in those nurseries. Older children will be dismissed after musical worship — about half way through the service. Go here to learn more about our children's ministries.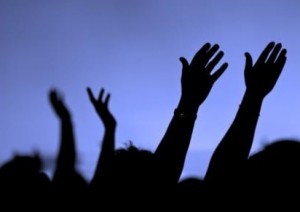 Musical worship begins about 10:30 am. Our music is a lively mix of contemporary worship and praise songs with a sprinkling of classical christian hymns. You are encouraged to worship in the way you are comfortable. Don't be surprised if you see some raising or clapping their hands, or even dancing, as these are all biblical expressions of praise and worship.
At the conclusion of musical worship, we usually move into a time where people worship with their tithes and offerings. Our tradition is for families and groups of friends to come to the front of the sanctuary and pray together, acknowledging and thanking God for His provision, before presenting their offerings to God at the altar. As a visitor,we don't want you to feel obligated to give, and you are welcome to stay at your seat during this time and just pray if you wish. If you feel compelled by the Spirit to give, you are encouraged to do so with a joyful heart.
After tithes and offerings, the children will be released to Promiseland (4-6 years old) and Covenant Kids (1st – 5th grade). You are not required to release your children to these ministries, but we think they will enjoy it and will be blessed.
The message is usually delivered by our senior pastor, Dennis Jamison, although we occasionally have guest speakers. Messages are often a part of a series over several weeks, in order to give an in-depth teaching on a specific topic or scripture passage. You can listen to past messages online (we are adding more every week), or by CD (which can be purchased through our office).
At the conclusion of the service, you are welcome to stay and get acquainted with our members. If you fill out our first time attenders prayer card (included in your welcome packet) you will receive an invitation to one of our monthly "New Friends" lunches with the senior pastor and his wife. After visiting for a while you may decide you want to learn more about us by attending one of our Discovery 101 classes where you will hear about our church vision, our non-negotiable values, some of our history, and ultimately how to become a member of our local body.
Whether you are a christian who is looking for a home church, or someone who is just seeking to know more about Jesus Christ and our Christian faith; we welcome you. We believe people matter to God, so you matter to us. Please come by and share in our life and faith. We would love to see you this Sunday!
If you have any questions about us or need any other information about us or our ministries, please go here to contact us by email.